Charlotte over at Lawson and Lotti asked me if she could peek into my sewing space for her Sunday Sewing Spaces series. I had to say yes, I love when other crafty people post pictures of their spaces! Head on over to her blog for lots of photos and a little interview with me about where I work relax!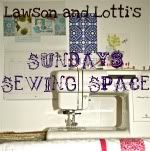 January 22, 2012 12 Comments
In the last week I received 3 more blocks! I'm getting really excited about this quilt. I need to get on it and finish the inner blocks I'll be making – seen here if you don't remember.
These blocks were sent to me by Lisa of Sophia Aster, Heather of A La Mode Fabric, and Lisa. And do you see how I have them displayed? It's my new design wall! Ever since I saw Ashley of Film in the Fridge's GIANT design wall, I've really really really wanted one. Ok, so mine is 1/6th the size. But it really works in the space and I think it will be a great place to display ideas while I hash them out.
It was really easy to make. I went to Ikea and bought the largest black frame they sold. I wrapped the plexiglass and backing in a piece of craft sized batting and hung the frame. So easy!
February 28, 2010 5 Comments
I thought I'd share this photo to show that I'm not just lazing around over here.
One thing I've learned on this latest project – a twin quilt is bigger than it sounds! I am in the process of quilting it using my fancy new Bernina Stitch Regulator. Which I love by the way. I'm about 1/5th the way done and am hoping between nap time and the weekend, I'll be binding by Sunday night.
I also had to share this next photo for everyone to see my "cage". LOL Yep, this is what happens when you want to sew but have an adorable, 8 month old trouble maker crawling everywhere. We have a finished basement which is our playroom and I've put my sewing area down there so I can work while the kids play. Kyler loves getting under my sewing table and going straight for the cords! It's funny because he will crawl up to the gate and cry, it's almost like he thinks HE'S the one in the cage, not me! I've promised myself that after this quilt is done, I will clean up my space and take a proper picture to share. I swear I'm not normally this messy!
November 13, 2009 10 Comments