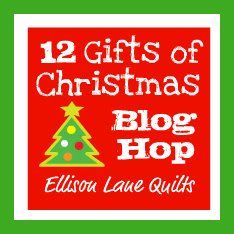 Hi everyone! I've very excited this year to be participating in a Christmas Blog Hop. "Christmas already?!!?" you say? I know it's not even Halloween yet, but I also know that if you want to make some fabulous handmade gifts for your family and friends, you better get started now!
For 12 days, starting this Friday, you will find a tutorial for a great handmade gift on the blogs below.
Friday, October 14- Jennifer @ Ellison Lane Quilts
Saturday, October 15- Ayumi/Pink Penguin
Sunday, October 16- Amy/ Lots of Pink Here
Monday, October 17- Faith/Fresh Lemons Quilts
Tuesday, October 18- Penny/Sew Take a Hike
Wednesday, October 19- Kati/From the Blue Chair
Thursday, October 20- Lee/Freshly Pieced
Friday, October 21- Elizabeth/Don't Call Me Betsy
Saturday, October 22- Melanie/Texas Freckles
Sunday, October 23- Lindsay/Craft Buds
Monday, October 24- Amanda/A Crafty Fox
Tuesday, October 25-Vanessa/Little Big Girl Studio
In addition to a free gift tutorial, each blog will also have a giveaway from a great sponsor on their post during the 12 days. And Jennifer of Ellison Lane Quilts will have a grand prize on her blog's tutorial of a $250 gift certificate to Fabricworm! Think of all the fabric you could buy for gifts with that!
Fabricworm is also offering a generous 15% off discount during the 12 days of the blog hop with the coupon code fw12days.
There is a Flickr group set up to join and share what you make. So there you have it, very exciting. Stop by Monday for my tutorial!